It was the morning after the night before, my bones were aching and my feet were burning from the 5 hour skank out supplied by sidewinder less than 24 hours prior, but there was no time to rest A double dose of berocca and a "crizzpy bacon" sarnie to soak up the voddy's and red bulls still floating about saw me right and I got ready quick time for one's meeting with the Queen!
As I approached the queens quarters to watch her hold court atop her throne swapping the bull ring in her home town of Birmingham for the red bull stage at Manchester carnival I could see the queen was being worshiped and causing a "Mad ting" which "Made the crowd jump like Kriss Kross" as she performed her latest single 'Where are you now" and issued her Royal decree on dental hygiene with the wickedly witty 'Queen Speech 4' containing enough quotables to cuss a dusty gyal into next year and beyond.
Lady Leshurr has been something of a scene stealer over the past few years so much so that when the 'Queens Speech' was the number 1 twitter trend on Christmas day Grime fans assumed she'd dropped her hotly anticipated 'Queen of scene' album and were disappointed when it turned out to be the actual queen giving her traditional (if somewhat boring) festive speech. With 9 mixtapes and 4 EP's under her crown it was only a matter of time before her humorous retorts and punchy delivery earned her the rightful place as the most recognisable female Grime artist right now cemented with her "Queens speech" 1-5 series and an NME cover.
I caught up with the lil lady with the feisty attitude after her performance and was keen to find out which of the many festivals she had enjoyed performing at this year?
LL: Glastonbury definitely because no one really knew who I was, I played there 5 years ago and there was only 20 people in the tent watching me, this time around there were thousands and they gave me a standing ovation kinda thing!
UK Grime: Wow, how did you feel when that happened?
LL: I can't even explain the feeling, I don't know….it was just amazing, incredible!
UK Grime: What other festivals have you done this year, did you do Eskimo dance this year?
LL: I did yeah
UK Grime: That's great glad to hear it. How have you found the Manchester crowd today at carnival?
LL: They are really warm, Manchester has always been cool for me, they always show me the love.
UK Grime: And is that the same back home in Birmingham, I'm sure they show you that same love?
LL: Back in Birmingham they never really rated and supported me before and I think that's because I was just a local artist from down the road, like ah it's only Leesh she just lives down the road and people saw me about all the time but now it's changed cos I'm not really about like that.
UK Grime: So in terms of singles and releases what's coming next?
LL: The album is next, it's coming at the start of next year and it's called "Queen of the Scene"
UK Grime: YES!! We are all looking forward to that drop. I LOVE the Queen speeches and have them all so I'm excited for the album.
LL: *Giggles softly* Thank you, thank you, I appreciate that.
UK Grime: So where can we expect to see you performing next?
LL: *Pauses to think* Errrmmmm where are you now (see what she did there!) I'm in Ibiza next and we fly out there on Friday (in 6 days' time)
UK Grime: You're jettin' out so soon, after all the festivals you've played all over the country?!
LL: Yeah man, every week me and the team fly out somewhere, today we just landed from Norway I haven't had any sleep for a few days it's no sleep gang literally.
UK Grime: You're a very busy girl! What's the difference to when you first started out in your career to now? Do you find that you get to perform at the places you've always wanted to now?
LL: Yeah definitely, now I get to perform at the places I've always wanted to perform at but there's always like a next…like once I've completed or finished that aim, there's the next place I wanna go to; like now I wanna play at Wembley stadium also the MOBO's y'know what I mean? The places I've ALWAYS had in mind.
UK Grime: That would be sick to see you at Wembley! We know where you'd like to perform next but who would you like to work with next? It was a HUGE collabo getting Wiley for 'Where are you now', how did you get him on the single?
LL: Wiley actually reached out to me cos he wanted me on his album and I said ah well can you do a song for me then and he agreed to it.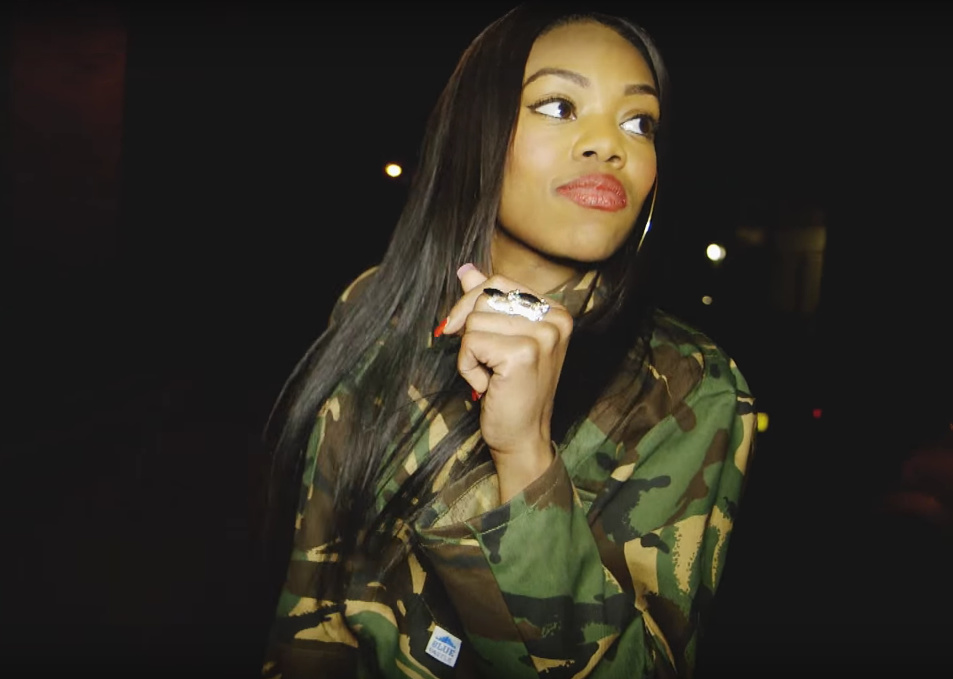 UK Grime: I like that trade-off, nice! Does that mean when God father drops we will be hearing you on that album?
LL: Yep, you should do. Just need to touch up a few things in the studio but it's SO long though man, he can be long.
UK Grime: I can imagine what with Wiley living out in Cyprus now (Wiley has since moved to Holland) it can't be easy hooking up for studio time which brings me to the video for 'WAYN' in terms of how you incorporated Wiley's absence into the video…
LL: Yeah, I had no choice. I HAD to come up with a creative way to include the fact that he wasn't there for the shoot because he cancelled and couldn't come to the shoot so I had to find a way to make it work.
UK Grime: Well you definitely made it work it's a sick video. Is there any where that you personally look forward to visiting when you are on tour?
LL: Errmmmm where do I like going hmmmm, I really like going to Europe places like France, because their energy is completely different to UK audiences, it's just that they are SO excited to see you and they're happy and the vibe is good.
UK Grime: Is that because they are just getting on the Grime hype in France?
LL: Naawww you know, they have been about you know, I've been performing in France for a good 7 years now and they've always had the same energy the same as Sweden they've always had the same energy too and I think that's because we're not from there so that excitement of an English rapper going over there as well as whether they listen to the artist as well, it's all of it one.
UK Grime: Thank you for stopping to talk to me and we can't wait for the album, I'll pre ordering, downloading, all of that!
LL: Thank you, sorry we didn't have more time to talk and it was slightly rushed, take care
And with that insightful speech and a hug it was time to let her royal HYPEness catch her train to her next destination to greet her loyal subjects with the same enthusiasm she brought to Manchester carnival despite having no sleep, proving that her talent and energy is permanently unleashed.
Cammy Thomas